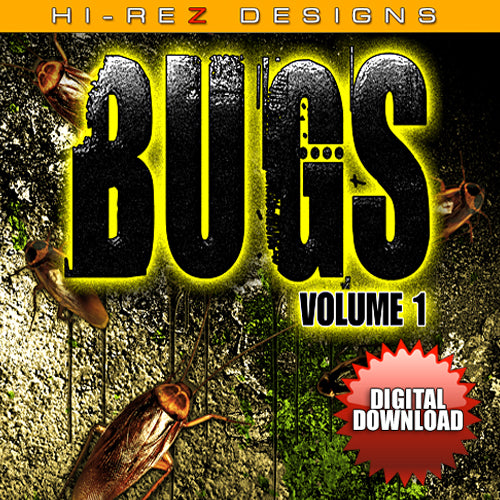 Hi-Rez Designs
Bugs: Volume 1 - HD - DD
Sale price
$39.95 USD
Regular price
"BUGS: VOLUME 1" is definitely our most easy-to-use and versatile product to date. This exciting new video creates the illusion of hundreds and thousands of cockroaches / bugs swarming all over the screen. Videos include a "full screen version", a "matted spotlight version" to easier hide the edges of the screen or illuminate a specific area, and a "lightning version" that you clearly see the cockroaches every time lightning strikes nearby.
But that's not all ... Need maggots? You got 'em! We've also included 3 different "maggot" videos: Normal maggots squirming in a spotlight beam, and 2 different "bloody maggots & guts" versions guaranteed to turn anyones stomach or make their skin crawl.
All videos are 4-5 minutes long with seamless looping playback. You can use any standard LCD projector to project the imagery of cockroaches and maggots onto any light color wall, floor, ceiling, butcher / kitchen set with food, and even on a pile of trash / debris! Using the "spotlight" versions, you can strategically project maggots or roaches into "holes" in props, pipes, or plumbing. Using a standard LCD screen, you can hide the monitor within a wall with holes, or inside a prop!
All videos come with full digital stereo soundtracks of squirming, squishing, crawling, skittering, and even buzzing flies!
Get "BUGS: VOLUME 1" today "creep out" your Halloween / haunt visitors this season.
DOWNLOAD INCLUDES:
1080P (1920x1080) HIGH-DEFINITION VERSION
INCLUDES 16x9 AND 4x3 ASPECT RATIO VIDEOS
SEAMLESS CONTINUOUS LOOP VIDEOS
DOLBY DIGITAL STEREO SOUNDTRACK
OPTIMIZED FOR LCD PROJECTORS & MONITORS
SHOT & MASTERED IN HIGH-DEFINITION
PROGRESSIVE SCAN PLAYBACK
DOWNLOAD FILE SIZE: 1.85GB
---
This purchase is for a "digital download" and you WILL NOT receive a physical product.
File download are in ".zip" format. You must be able to "un-zip" the downloaded files.
Once you have completed this purchase, you will receive the generated download link via email. Please make sure your email address is correct when making this purchase.
If you are planning to use this or any Hi-Rez Designs Visual FX product as part of a PRO / PAID HAUNTED ATTRACTION that charges admission, you must also purchase a COMMERCIAL USE LICENSE below.
Products listed as "SD" are the STANDARD DEFINITION digital video files and products listed with "HD" are the full HIGH DEFINITION digital video files versions.
There are ABSOLUTELY no refund or exchanges on digital download purchases.
No unauthorized duplication video product or any part of it. All commercial use or duplication of this copyrighted material without prior licensing is forbidden by Federal Law. Violators will be prosecuted.
- - - - - - -
All Hi-Rez Designs Visual FX DVD products are restricted to non-profit HOME HAUNT & PERSONAL USE ONLY, and are protected by all federal copyright laws.
If you wish to use this or any Hi-Rez Designs Visual FX DVD products as part of a PRO / PAID HAUNTED ATTRACTION that charges admission, you must also purchase a COMMERCIAL USE LICENSE.
If you have questions or would like to purchase a commercial license for using Hi-Rez Designs Visual FX DVDs as part of your paid admission or pro haunt, please email us at: info@hi-rezdesigns.com.
Federal Law provides civil and criminal penalties for the unauthorized reproduction, distribution, or exhibition of the copyrighted material of this product.
- - - - - - -
All video, audio, and imagery © Hi-Rez Designs. All Rights Reserved.