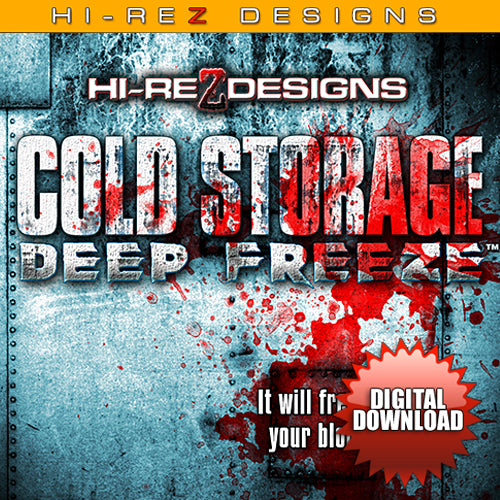 Hi-Rez Designs
Cold Storage: Deep Freeze - HD - DD
Sale price
$49.95 USD
Regular price
"COLD STORAGE: DEEP FREEZE" is part of the all-new "FREEZER DOOR / MEAT LOCKER" series.

A helpless woman is trapped in a meat-locker / cold storage facility. It is already very cold inside, but when the cooling system goes into "deep-freeze" mode, she literally freezes-to-death before your eyes inside!

This product features multiple playback versions that have a shorter running time by skipping "freeze" segments so as to not let your guests stand / bottleneck for too long a time period.

The product can be used with the Hi-Rez Relay Decoder to activate a concealed 5 Gallon Air-Cannon or Water Blaster Cannon that is triggered to fire at the precise moment the woman's face explodes. The Water Blaster Cannon (if applicable) simulates a "frozen-blood-splatter" that is guaranteed to make your unsuspecting guests / viewers jump if fear! If the Water Blaster Cannon can not be used, the standard 5 Gallon Air-Cannon is an alternate option.

Shot in 2K [HD] resolution format and mastered in true [HD] High-Definition (1920x1080) for absolutely the best picture quality.

DOWNLOAD INCLUDES:

1080P (1920x1080) HIGH-DEFINITION VERSIONS
HOLLYWOOD-QUALITY SPECIAL VISUAL EFFECTS
INCLUDES: SHORT, MEDIUM, AND LONG PLAY VERSIONS
INCLUDES: "WITH" AND "WITHOUT" SAFETY GLASS VERSIONS
INCLUDES: 2 MINUTE "BLACK SCREEN" VIDEO FOR TRIGGER
PLAYBACK IN 'FREEZER DOOR' OR 'MEAT LOCKER' FACADE / PROP
DOWNLOAD OPTIONS: MAIN DEEP FREEZE VIDEO ONLY OR ADDITIONAL TEMPERATURE GAUGE FOOTAGE
TEMP GAUGE SCREEN FOOTAGE: 720P RESOLUTION (WHEN PURCHASED)
CAN BE USED WITH EITHER 1 OR 2 LED / LCD MONITORS (WHEN TEMP GAUGE FOOTAGE PURCHASE)
PERFECT DUAL-SCREEN / MONITOR SYNCHRONIZATION (BLACK BOX V.2 DUAL MEDIA CONTROLLER REQUIRED)
CLOCKWISE, & COUNTER-CLOCKWISE ROTATION VIDEOS
USE WITH OR WITHOUT "HI-REZ RELAY DECODER" & HI-REZ DESIGNS NEW WATER-CANNON SPRAYER & FOG MACHINE
SHOT & MASTERED IN 2K HIGH-DEFINITION
STEREO + HI-REZ RELAY DECODER VERSIONS
OPTIMIZED FOR LCD / LED MONITORS
MAIN DEEP FREEZE VIDEO DOWNLOAD FILE SIZE: 2.33 GB
TEMP GAUGEDOWNLOAD FILE SIZE (WHEN PURCHASED): 284 MB
---
This purchase is for a "digital download" and you WILL NOT receive a physical product.
File download are in ".zip" format. You must be able to "un-zip" the downloaded files.
Once you have completed this purchase, you will receive the generated download link via email. Please make sure your email address is correct when making this purchase.
If you are planning to use this or any Hi-Rez Designs Visual FX product as part of a PRO / PAID HAUNTED ATTRACTION that charges admission, you must also purchase a COMMERCIAL USE LICENSE below.
Products listed as "SD" are the STANDARD DEFINITION digital video files and products listed with "HD" are the full HIGH DEFINITION digital video files versions.
There are ABSOLUTELY no refund or exchanges on digital download purchases.
No unauthorized duplication video product or any part of it. All commercial use or duplication of this copyrighted material without prior licensing is forbidden by Federal Law. Violators will be prosecuted.
- - - - - - -
All Hi-Rez Designs Visual FX DVD products are restricted to non-profit HOME HAUNT & PERSONAL USE ONLY, and are protected by all federal copyright laws.
If you wish to use this or any Hi-Rez Designs Visual FX DVD products as part of a PRO / PAID HAUNTED ATTRACTION that charges admission, you must also purchase a COMMERCIAL USE LICENSE.
If you have questions or would like to purchase a commercial license for using Hi-Rez Designs Visual FX DVDs as part of your paid admission or pro haunt, please email us at: info@hi-rezdesigns.com.
Federal Law provides civil and criminal penalties for the unauthorized reproduction, distribution, or exhibition of the copyrighted material of this product.
- - - - - - -
All video, audio, and imagery © Hi-Rez Designs. All Rights Reserved.