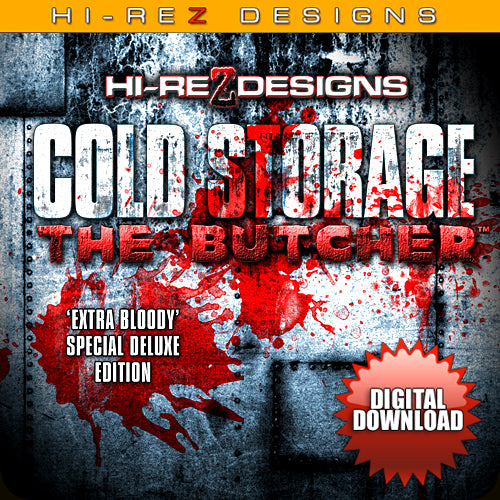 Hi-Rez Designs
Cold Storage: The Butcher 2D + 3D - HD - DD
Sale price
$49.95 USD
Regular price
"COLD STORAGE: THE BUTCHER" is the first in our all-new 2013 "FREEZER DOOR / MEAT LOCKER" series.
A helpless woman is trapped in a meat-locker / cold storage facility, while a crazed killer (The Butcher™) searches for her. While she bangs on the freezer door begging for help, the Butcher runs up behind her and bludgeons her in the head with a sledge-hammer. After subduing his victim, the Butcher realizes he is being watched on the other side of the door, and quickly exits the scene, perhaps to surprise the unsuspecting viewers. This horrific scene creates the great opportunity to have an actor of your haunt dressed similarly the Butcher suddenly jump out of hiding to give your guests an additional scare.
The product can be used with the
Hi-Rez Relay Decoder
to activate a concealed
5 Gallon Air-Cannon
or
Water Blaster Cannon
that is triggered to fire at the precise moment the Butcher smashes the helpless woman in the head. The
Water Blaster Cannon
(if applicable) simulates a "blood splatter" that is guaranteed to make your unsuspecting guests / viewers jump if fear! If the
Water Blaster Cannon
can not be used, the standard
5 Gallon Air-Cannon
is an alternate option.
The [HD] High-Definition version includes the STANDARD HD version and also the Real-Depth® 3D Anaglyph version to further enhance / create the illusion of actual "depth" of a real room viewed on the LED / LCD screen. This is a FIRST for the Halloween / Haunt / Attraction community.
Shot in 2K [HD] resolution format and mastered in true [HD] High-Definition (1920x1080) for absolutely the best picture quality.
DOWNLOAD INCLUDES:
1080P (1920x1080) HIGH-DEFINITION VERSIONS
CONTAINS: STANDARD 2D & REAL-DEPTH® 3D VERSIONS
INCLUDES: "WITH" AND "WITHOUT" SAFETY GLASS VERSIONS
CLOCKWISE, & COUNTER-CLOCKWISE ROTATION VIDEOS
STEREO + HI-REZ RELAY DECODER VERSIONS
2 MINUTE "BLACK SCREEN" VIDEO FOR TRIGGER
TOTAL DOWNLOAD FILE SIZE: 895 MB
---
This purchase is for a "digital download" and you WILL NOT receive a physical product.
File download are in ".zip" format. You must be able to "un-zip" the downloaded files.
Once you have completed this purchase, you will receive the generated download link via email. Please make sure your email address is correct when making this purchase.
If you are planning to use this or any Hi-Rez Designs Visual FX product as part of a PRO / PAID HAUNTED ATTRACTION that charges admission, you must also purchase a COMMERCIAL USE LICENSE below.
Products listed as "SD" are the STANDARD DEFINITION digital video files and products listed with "HD" are the full HIGH DEFINITION digital video files versions.
There are ABSOLUTELY no refund or exchanges on digital download purchases.
No unauthorized duplication video product or any part of it. All commercial use or duplication of this copyrighted material without prior licensing is forbidden by Federal Law. Violators will be prosecuted.
- - - - - - -
All Hi-Rez Designs Visual FX DVD products are restricted to non-profit HOME HAUNT & PERSONAL USE ONLY, and are protected by all federal copyright laws.
If you wish to use this or any Hi-Rez Designs Visual FX DVD products as part of a PRO / PAID HAUNTED ATTRACTION that charges admission, you must also purchase a COMMERCIAL USE LICENSE.
If you have questions or would like to purchase a commercial license for using Hi-Rez Designs Visual FX DVDs as part of your paid admission or pro haunt, please email us at: info@hi-rezdesigns.com.
Federal Law provides civil and criminal penalties for the unauthorized reproduction, distribution, or exhibition of the copyrighted material of this product.
- - - - - - -
All video, audio, and imagery © Hi-Rez Designs. All Rights Reserved.