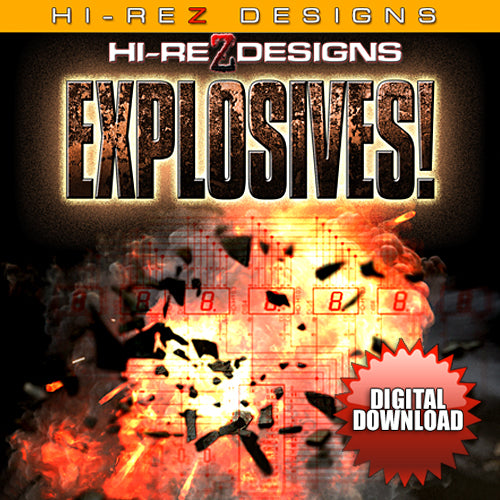 Hi-Rez Designs
Explosives! - Deluxe Edition - HD - DD
Sale price
$39.95 USD
Regular price
Explosives! - Deluxe Edition - HD Digital Download

Hi-Rez Designs: Explosives! - Deluxe Edition is the FIRST visual fx product ever created specifically for 'Escape Rooms' and 'Time-Limit' Attractions.

Now you can created the illusion of a massive and terrifying EXPLOSION effect that is sure to scare anyone who survives it!

This DELUXE EDITION sure lives up to its name by being absolutely packed with features and extras!

Included with this product are (5) massive explosions and (5) additional explosions with flying debris added to the effect, all with earth-trembling digital sound. That's (10) explosions in all!

All explosions are "Black Matted' so the area around the actual explosion will remain dark when the videos are being projected. In addition, all explosion videos have "soft-frame-falloff' which means the explosion effect never extends past the edge of your projected video frame which would reveal it is being shown from a video projector (i.e.: square edge).

As an extra added bonus, we've also included 'spotlight to explosion' versions of each video. This means you can have your projector act like a 'spotlight' to illuminate a specific area or object such as a pile of dynamite or dangerous bomb prop using the provided 'spotlight video' that has a small which circle in the center of the frame. Once the video is triggered, the spotlight fades to black and THEN plays the explosion that fills the expanse of the video frame!

Using a standard LCD/LED projector (1800 - 2200+ or more lumens recommended) the explosions can be projected onto just about any surface / area. If you want a truly mind-blowing explosion effect, you can even project onto a large cloud of smoke or fog, thus creating a 3-Dimensional rolling explosion!

But that's not all ...

Also included with Hi-Rez Designs: Explosives! - Deluxe Edition are (5) different 3-Minute Countdown Timers with digital sound that can be used on a separate LCD/LED monitor to further depict the peril that awaits if the explosion goes off. But you don't have to use the full 3 minutes on the timer. You can set the timer to countdown from 2 minutes, 1 minute, or 30 seconds as well.

POINT OF INTEREST: The Countdown Timers can be used in many other fashions as well, not just WITH the explosion video fx. They can be used to set time limits in puzzle rooms, alerting patrons in a queue-line when to enter the attraction, next showtime start ... and dozens of other uses.

All 'explosion' and 'countdown timer' videos have been encoded with the Hi-Rez Relay Decoder signal that can be setup to activate / trigger interactive light fx, pneumatics, air-cannons, water-sprayers, other props, door locks, etc.

Blow away your customers and patrons away this season with Hi-Rez Designs: Explosives! - Deluxe Edition.
PRODUCT FEATURES / SPECIFICATIONS:
INCLUDES 5 MASSIVE EXPLOSIONS AND 5 EXPLOSIONS WITH FLYING DEBRIS
ALL EXPLOSIONS ARE 'BLACK MATTED' WITH 'SOFT-FRAME-FALLOFF' VIDEO EDGES
BONUS FEATURE: SPOTLIGHT TO EXPLOSION VIDEOS
ENCODED WITH HI-REZ RELAY DECODER SIGNAL FOR INTERACTIVE ENVIRONMENT FX (LIGHTING, PNEUMATICS, SMOKE MACHINES, AIR-CANNON, WATER-SPRAYERS, DOOR LOCKS / RELEASES, ETC.)
INCLUDES 5 3-MINUTE COUNTDOWN TIMERS
OPTIMIZED FOR LCD/LED PROJECTORS
TRIGGERED OR LOOPING PLAYBACK
16x9 WIDESCREEN FORMAT
PROGRESSIVE SCAN TECHNOLOGY
TOTAL DOWNLOAD SIZE: 1.42 GB
- - - - - - -

This purchase is for a "digital download" and you WILL NOT receive a physical product.

File download are in ".zip" format. You must be able to "un-zip" the downloaded files.

Once you have completed this purchase, you will receive the generated download link via email. Please make sure your email address is correct when making this purchase.

If you are planning to use this or any Hi-Rez Designs Visual FX product as part of a PRO / PAID HAUNTED ATTRACTION that charges admission, you must also purchase a COMMERCIAL USE LICENSE below.

Products listed as "SD" are the STANDARD DEFINITION digital video files and products listed with "HD" are the full HIGH DEFINITION digital video files versions.

There are ABSOLUTELY no refund or exchanges on digital download purchases.

No unauthorized duplication video product or any part of it. All commercial use or duplication of this copyrighted material without prior licensing is forbidden by Federal Law. Violators will be prosecuted.

- - - - - - -

All Hi-Rez Designs Visual FX DVD products are restricted to non-profit HOME HAUNT & PERSONAL USE ONLY, and are protected by all federal copyright laws.

If you wish to use this or any Hi-Rez Designs Visual FX DVD products as part of a PRO / PAID HAUNTED ATTRACTION that charges admission, you must also purchase a COMMERCIAL USE LICENSE.

If you have questions or would like to purchase a commercial license for using Hi-Rez Designs Visual FX DVDs as part of your paid admission or pro haunt, please email us at: info@hi-rezdesigns.com.

Federal Law provides civil and criminal penalties for the unauthorized reproduction, distribution, or exhibition of the copyrighted material of this product.

- - - - - - -

All video, audio, and imagery © Hi-Rez Designs. All Rights Reserved.