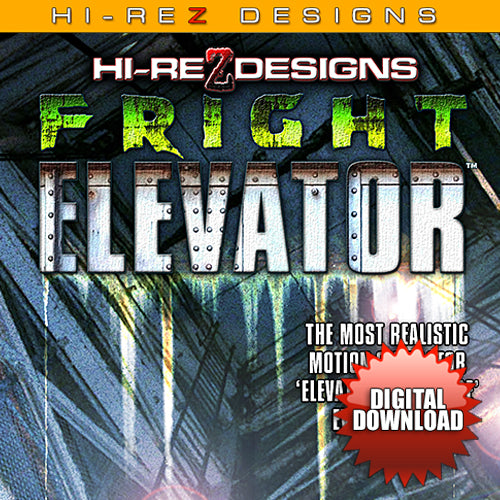 Hi-Rez Designs
Fright Elevator - 2D + 3D - HD - DD
Sale price
$69.95 USD
Regular price
35 seconds to go up ... 5 seconds to come crashing down!
Imaging your guests walking into an elevator in your haunt / attraction and closing the doors. When everyone is inside and ready, the elevator begins to starts up. The floor rumbles with movement and the elevator "windows" show they are in fact going up ...
When the elevator reaches the 10th floor, the elevator comes to a sudden halt. The lights in the elevator begin to flicker and a creaking / metal straining sound can be heard. There is something horribly wrong and nothing but an open elevator shaft is beneath the occupants.
Suddenly, the elevator floor drops out from underneath the passengers and the elevator drops 10 feet ... but it is still being held up by a single steel cable.
What would happen if that single steel cable was to break?
---
Created using state-of-the-art motion simulator technology, Fright Elevator will absolutely give your guests / viewers the feeling that they are actually in a real MOVING elevator.
Fright Elevator is available in multiple playback / video formats (standard 2D, Real-Depth® 3D and Theater 3D®) and D-I-Y kits designed to meet any haunters budget.
The above sample / promo features the Real-Depth® 3D version of Hi-Rez Designs: Fright Elevator™.
Please use anaglyph 3D glasses (red-blue/cyan) to view this video properly.
The elevator "control panel" on the right side of the screen is an additional purchase option that can be used with an additional 15"-24" monitor to simulate the elevators buttons / controls.
---
ABOUT THE 3D VERSIONS:
Hi-Rez Designs: Fright Elevator™ is the first haunt product to utilize the full capability of 3D LED / LCD TVs an monitors. Because playback of this video is in the standard "horizontal" widescreen format, new 3D televisions with "passive 3D glasses" (non-battery powered) can be used.
Most (99.99%) of the new 3D television can be set in either SBS (side-by-side) or TB (top-bottom) 3D decoding format this product is best suited for 3D playback. Although the 3D glasses are slightly more expensive than the standard anaglyph (red-blue) glasses, they are basically the same 3D glasses that are used for every 3D movie in the theaters today. You can easily buy larger quantities of passive 3D TV glasses online for a fraction of the price per glasses than if you were to purchase smaller quantities or single pairs.
The 3D playback in this format is the absolutely most realistic 3D imagery ever. Please be sure your 3D television can support SBS or TB 3D content before you order. Recommended 3D TV size: 42" or larger.
Don't have a new 3D TV but still want a 3D version that you can use with just about ANY LED / LCD TV?
We've got you covered . . . Hi-Rez Designs: Fright Elevator™ is ALSO available in the standard anaglyph (red-blue) HD version. The anaglyph version of Fright Elevator™ is equally effective in 3D and not only can it be used with just about any television, the glasses can be purchased for "pennies" per pair when bought in large number quantities online.
---
DOWNLOAD INCLUDES:
1080P (1920x1080) HIGH-DEFINITION VERSION
INCLUDES 2D, REAL-DEPTH® 3D ANAGLYPH , AND THEATER 3D® VERSIONS
ULTRA-REALISTIC HOLLYWOOD-QUALITY SPECIAL VISUAL EFFECTS
USE WITH OR WITHOUT "HI-REZ RELAY DECODER", PNEUMATIC SYSTEM AND / OR MOTION BASE PLATFORM SYSTEM
FEATURES INTERACTIVE LIGHTING FX & FLOOR MOTION BASE MOVEMENT PROGRAMMING
PERFECT SYNCHRONIZATION WITH INTERACTIVE FX AND DUAL PLAYBACK SYSTEM
TRIGGERED OR LOOPING PLAYBACK
PROGRESSIVE SCAN TECHNOLOGY PLAYBACK
OPTIMIZED FOR LCD / LED MONITORS
16x9 WIDESCREEN FORMAT
STEREO + HI-REZ RELAY DECODER VERSIONS
SHOT & MASTERED IN 2K-HD 3D HIGH-DEFINITION
OPTIONAL ADDITIONAL PURCHASE OF 720P (1280x720) INTERACTIVE CONTROL PANEL VIDEO
---
This purchase is for a "digital download" and you WILL NOT receive a physical product.
File download are in ".zip" format. You must be able to "un-zip" the downloaded files.
Once you have completed this purchase, you will receive the generated download link via email. Please make sure your email address is correct when making this purchase.
If you are planning to use this or any Hi-Rez Designs Visual FX product as part of a PRO / PAID HAUNTED ATTRACTION that charges admission, you must also purchase a COMMERCIAL USE LICENSE below.
Products listed as "SD" are the STANDARD DEFINITION digital video files and products listed with "HD" are the full HIGH DEFINITION digital video files versions.
There are ABSOLUTELY no refund or exchanges on digital download purchases.
No unauthorized duplication video product or any part of it. All commercial use or duplication of this copyrighted material without prior licensing is forbidden by Federal Law. Violators will be prosecuted.
- - - - - - -
All Hi-Rez Designs Visual FX DVD products are restricted to non-profit HOME HAUNT & PERSONAL USE ONLY, and are protected by all federal copyright laws.
If you wish to use this or any Hi-Rez Designs Visual FX DVD products as part of a PRO / PAID HAUNTED ATTRACTION that charges admission, you must also purchase a COMMERCIAL USE LICENSE.
If you have questions or would like to purchase a commercial license for using Hi-Rez Designs Visual FX DVDs as part of your paid admission or pro haunt, please email us at: info@hi-rezdesigns.com.
Federal Law provides civil and criminal penalties for the unauthorized reproduction, distribution, or exhibition of the copyrighted material of this product.
- - - - - - -
All video, audio, and imagery © Hi-Rez Designs. All Rights Reserved.