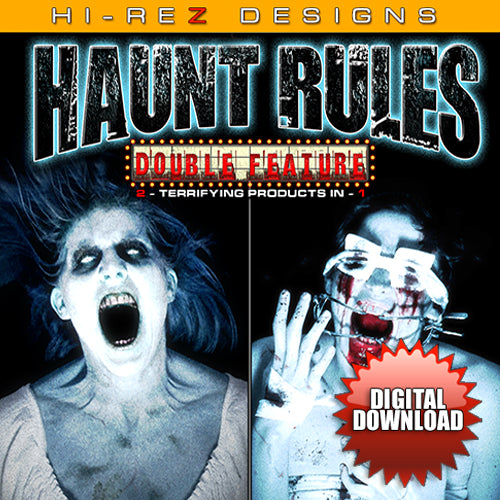 Hi-Rez Designs
Haunt Rules: Double Feature - HD - DD
Sale price
$59.95 USD
Regular price
HAUNT RULES - HD - DIGITAL DOWNLOAD
Nothing is more startling than a BIG scare when you least expect it. Hi-Rez Designs: Haunt Rules - Double Feature is in fact 2 - Terrifying Products In - 1!
First, you get the "Haunt Rules" video-poster versions featuring 2 sets of generic "Rules of the House" attraction disclaimers that you put on a 43-48" (or as big as you want) LCD screen OUTSIDE your attraction in the queue line. We've included our original classic "Haunt Rules" poster design with disclaimers we have offered in "printed" form since 2007 now as one of the video-posters along with a newly designed poster as well.
When guests / patrons stand before the screen to read the "rules", suddenly the video-poster switches to one of the "scare" characters of either "Nightscream" or "Ratchet", scaring the crap out of the viewer because they never saw it coming! Both video-posters include both characters, so you can use 1 style with either or character, or the other style with either or character, or BOTH!
That's not all …
We've also included both scare characters, "Nightscream" and "Ratchet" videos WITHOUT the Haunt Rules video-poster that both appear from a black screen. This means you can use the characters in a 2-way mirror effect, or simply project them with a LCD video projector … the possibilities are endless!
But it gets even better …
Seeing that Hi-Rez Designs is well known for creating spectacular INTERACTIVE VISUAL FX products, we've encoded this product specifically to work with the
Hi-Rez Relay Decoder
to trigger a concealed
AIR-CANNON
or
WATER-BLASTER CANNON
when one of the scare characters appears, adding that additional big scare. Also, if you are using Haunt Rules - Double Feature as a 2-way mirror effect, the Hi-Rez Relay Decoder will also turn off the LIGHTS in the room, making the mirror effect even more effective.
Shot and Mastered in 2K [HD] High-Definition (1920x1080) for absolutely the best picture and image quality.
Never has a product been designed / created that will work BOTH inside and outside your haunt to scare, making like no other Halloween / Haunt visual fx product, EVER!
DOWNLOAD INCLUDES:
INCLUDES 2 DIFFERENT "SCARE" CHARACTERS
INCLUDES 2 DIFFERENT "HAUNT RULES" VIDEO POSTERS
INCLUDES BOTH "SCARE" CHARACTERS FOR MIRROR EFFECT
INCLUDES 2 MINUTE LOOP-TIMERED VERSIONS
USE WITH OR WITHOUT "HI-REZ RELAY DECODER" FOR HI-REZ AIR-CANNON OR WATER-BLASTER CANNON
CW OR CCW PORTRAIT MODE IMAGE ROTATION
SHOT & MASTERED IN 2K HIGH-DEFINITION
OPTIMIZED FOR LCD / LED MONITORS
TRIGGERED OR LOOPING PLAYBACK
16x9 WIDESCREEN FORMAT
DOWNLOAD FILE SIZE: 1.68 GB
---
This purchase is for a "digital download" and you WILL NOT receive a physical product.
File download are in ".zip" format. You must be able to "un-zip" the downloaded files.
Once you have completed this purchase, you will receive the generated download link via email. Please make sure your email address is correct when making this purchase.
If you are planning to use this or any Hi-Rez Designs Visual FX product as part of a PRO / PAID HAUNTED ATTRACTION that charges admission, you must also purchase a COMMERCIAL USE LICENSE below.
Products listed as "SD" are the STANDARD DEFINITION digital video files and products listed with "HD" are the full HIGH DEFINITION digital video files versions.
There are ABSOLUTELY no refund or exchanges on digital download purchases.
No unauthorized duplication video product or any part of it. All commercial use or duplication of this copyrighted material without prior licensing is forbidden by Federal Law. Violators will be prosecuted.
- - - - - - -
All Hi-Rez Designs Visual FX DVD products are restricted to non-profit HOME HAUNT & PERSONAL USE ONLY, and are protected by all federal copyright laws.
If you wish to use this or any Hi-Rez Designs Visual FX DVD products as part of a PRO / PAID HAUNTED ATTRACTION that charges admission, you must also purchase a COMMERCIAL USE LICENSE.
If you have questions or would like to purchase a commercial license for using Hi-Rez Designs Visual FX DVDs as part of your paid admission or pro haunt, please email us at: info@hi-rezdesigns.com.
Federal Law provides civil and criminal penalties for the unauthorized reproduction, distribution, or exhibition of the copyrighted material of this product.
- - - - - - -
All video, audio, and imagery © Hi-Rez Designs. All Rights Reserved.