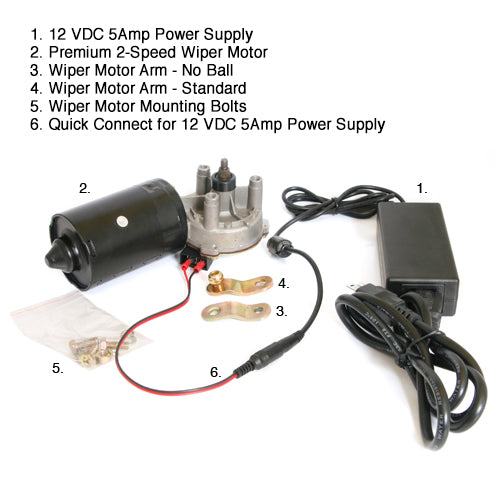 Monster Guts
Minion Prop Power Pack
Sale price
$51.95 USD
Regular price
What makes OUR Wiper Motors superior to the other? Monster Guts Premium 2-Speed 12VDC Wiper Motors are super-strong with plenty of torque, compact, reliable, and best of all, in-expensive!

This kit has all the basics to get you going. Simply connect the pieces to bring your monster to life. 

MINION PROP POWER PACK INCLUDES
Premium 2-Speed 12VDC Wiper Motor
Wiper Motor Mounting Bolts
Wiper Motor Arm - No Ball
Wiper Motor Arm - Standard
Quick Connect for 12VDC 5Amp Power Supply
12VDC 5Amp Power Supply
WIPER MOTOR TECHNICAL SPECIFICATIONS:
Rated torque: 53 in-lb
Stall torque: 177 in-lb
Unload high speed: 50rpm, 1.5A (12VDC)
Unload low speed: 35rpm, 1.0A (12VDC)
Maximum wattage: 50W/12VDC
Motor noise: <45dB
Spindle/Post thread size: M-6
Approx size: 7.25"x4"x3.5"
Wiper Motor Speed (Approximate)

Power Supply

Terminal

Speed

12VDC 5Amps

Low

35 RPM

12VDC 5Amps

High

50 RPM

DOCUMENTATION AVAILABLE FOR DOWNLOAD:

2-Speed 12VDC Wiper Motor - Basic Wiring Instructions
To assemble wiper arm: one side of wiper arm hole has a slight serrated edge, that goes face down to slot with groves on wiper motor, then lock washer and then nut. Tighten down with a wrench. If you find this configuration loose, try using the lock washer first, then the arm (try to keep it centered), then the nut. Tighten down with a wrench.
 Making outdoor props? Learn tips and tricks to protect your "guts" from the weather.