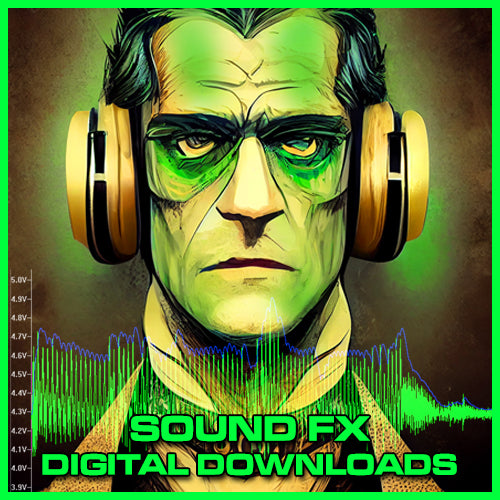 Monster Guts
Monster-Traxx: Sound Bites
Sale price
$1.99 USD
Regular price
Have you built or have an amazing prop, but you can't find the proper SOUND for it to make it complete? Are you looking for a new ambience soundtrack for your haunt that is top quality?
Monster Guts is proud to bring you the Monster-Traxx: Sound Bites Collection.
The Monster-Traxx: Sound Bites Collection are all-new and terrifying sound fx sets and tracks, professionally recorded, mixed and mastered by an award-winning sound designer. These are not "recycled" sound fx you've heard a thousand times from other sources ... these are ALL brand new recordings and sounds exclusively created for Monster Guts.
All audio has been recorded, mastered, and mixed in MP3 audio (256k, 44.1kHz) stereo sound. That's higher than CD audio quality!
The track list and mix samples below are individual sound fx tracks you can purchase. Find the sound track(s) you like and simply add it to your shopping cart using the pull down menu below. If you would like to purchase multiple sound fx tracks, simply select the track you want, add it to your shopping cart, then select another track from the pulldown menu, and add that track to your shopping cart, too. You only need to purchase what YOU need and want.
All the sound fx tracks and sets are Digital Downloads, so can access, download, and use them instantly once you've completed your purchase.
Be sure to check back regularly, because we will continuously be adding new Monster-Traxx: Sound Bites sets and tracks to this growing collection.
Add new LIFE (and sound) to your props or Halloween haunt with Monster-Traxx: Sound Bites.
Track / Mix Sample

Time

Description / Includes

2:53
Crickets / Swamp Ambience
Bubbling Liquid
Quiet Crackling Fire

3:26
Bubbling Liquid
Stirring Liquid Sound

3:52
Crickets
Quiet Frogs
3:48
Crickets Ambience + Frogs
Light Water Sound

5:22
Crickets Ambience
Low Howling Wind

1:19
Slow Creaking of Rocking Chair
4:45
Factory Ambience
Boiler Room Ambience
Machinery
4:46
Pulsing Airy Rumble
Dripping Water
3:39
Soft Rain
Distant Thunder
3:10
Heavy Rain
Howling Wind
Distant Thunder
Close Thunder

More sound fx coming soon ...
All audio and sound fx © Monster Guts, LLC. All Rights Reserved.
---
This purchase is for the "digital download" MP3 stereo file format (256k 44.1 kHz) version of this product and you WILL NOT receive a physical CD disc or DVD. There are absolutely no 'refunds' on digital download purchases and you MUST download the purchased file within 48 hours of purchase.