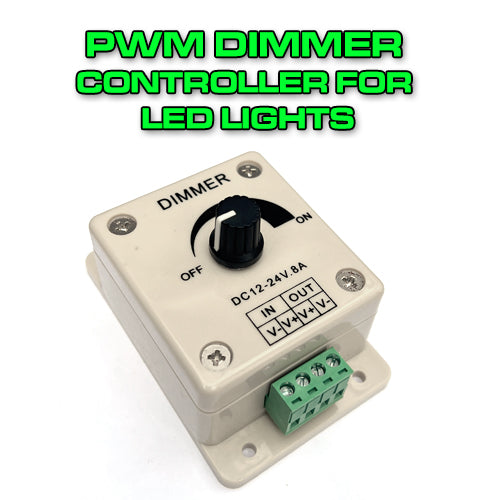 Monster Guts
PWM Dimmer Controller For LED Lights
Sale price
$14.95 USD
Regular price
The PMW Dimmer is a controller that can adjust LED brightness infinitely, from 0 to full intensity.

Using the knob-operated control, you can adjust light to the appropriate lighting brightness to suit your needs.

TECH SPECIFICATIONS:
Supply Voltage: 12VDC
Output: 1 channel
Product Dimension: L=3.5" x W=2.3" x H=1.4"
Static power consumption: <1 W
Output current: <8 A
Max. output: 96 W
Please note:
12VDC POWER SUPPLY NOT INCLUDED!




THIS PRODUCT IS NOT RATED NOR SHOULD IT BE USED AS A SPEED / VOLTAGE CONTROLLER FOR DC / WIPER MOTORS!