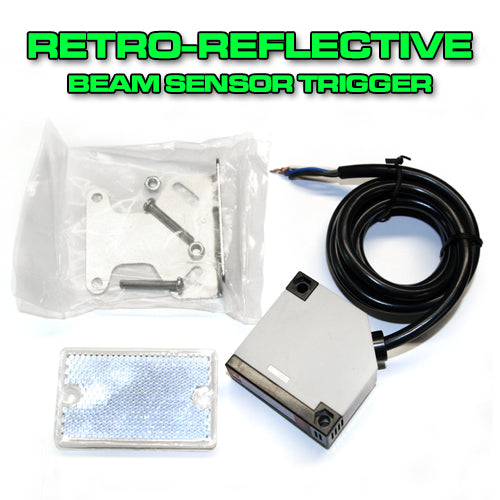 Monster Guts
Retro-Reflective Beam Sensor Trigger
Sale price
$44.95 USD
Regular price
$49.95
The Retro-Reflective Beam Sensor Trigger creates an invisible beam that when someone walks through will instantly "trigger" your Prop Motor Controller, Triggering DVD or HD Media Player, or other device.
Simply mount the reflective photoelectric beam detector on wall, mount reflector on the opposite wall, then connect the included wires to a 12VDC power supply and device to be triggered.
The beam sensor is specially designed to work for relatively short beam distances of 10-12 feet or less such as doorways, hallways, etc.
TECHNICAL SPECIFICATIONS:
Normally Open (NO) or Normally Closed (NC) FORM C Relay
Requires 12 - 24 VDC Power
Pre-wired 4 Foot Cord
Includes Brackets and Mounting Hardware
Ultra Compact Size
Response Time : < 30ms
Size : 5 x 5 x 1.8cm / 3.1" x 3.1" x 0.7(L*W*H)
Reflector Panel Size : 6.5 x 4 x 0.8cm/2.6'' x 1.6'' x 0.3'' (L*W*T)
POWER SUPPLY NOT INCLUDED!