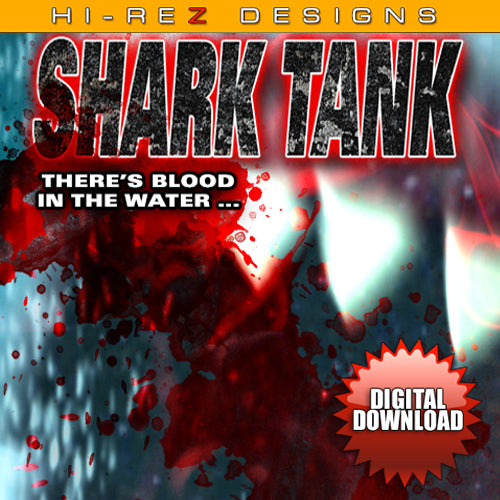 Hi-Rez Designs
Shark Tank - HD - DD
Sale price
$59.95 USD
Regular price
SHARK TANK - HD - DIGITAL DOWNLOAD
Have you ever wanted to have your very own sharks in a huge aquarium tank?
Well now you can (sort of) with an 'extra added bonus' of having a HUGE scare that goes along with it.
Hi-Rez Designs is proud to bring you "Shark Tank™", an amazing new visual fx "scare effect" that is sure to scare the pants off anyone who sees it!.
The illusion is that of a huge water tank aquarium with a large viewing window. A seemingly serene and massive Great White Shark (Carcharodon Carcharias) passes slowly by the viewing window. Suddenly, the great white turns and attacks the viewing window, smashing the glass trying to get to you … to have for dinner!
If that's not terrifying enough, you can add interactivity and additional scares by adding the
Hi-Rez Designs Relay Decoder
that can activate a
Water Blaster Canon
,
Air Cannon
and / or Pneumatics that can "bend" your aquarium facade or piping when the shark attacks the glass viewing window.
You can use a 32"-55+" LCD / LED TV or monitor mounted vertically (portrait mode) to achieve a realistic life-size of the shark and imagery.
DOWNLOAD INCLUDES:
FULL [HD] HIGH-DEFINITION 1080P VIDEO
LONG PLAYBACK VERSIONS (SEEN IN DEMO VIDEO)
SHORT PLAYBACK VERSIONS (ATTACK ONLY)
APPROX 2 MINUTE 'BUBBLES-ONLY' TRIGGER VIDEO
NORMAL AND FADE-UP / FADE-DOWN VERSIONS
USE WITH OR WITHOUT HI-REZ RELAY DECODER, WATER-CANNON SPRAYER, & PNEUMATICS
CW OR CCW PORTRAIT MODE IMAGE ROTATION
TRIGGERED OR LOOPING PLAYBACK
PLAYBACK BEHIND 'AQUARIUM' FACADE / PROP
OPTIMIZED FOR LCD / LED MONITORS
16x9 WIDESCREEN FORMAT
MASTERED IN 2K-HD HIGH-DEFINITION
DOWNLOAD FILE SIZE: 2.39 GB
PLEASE NOTE: Hi-Rez Designs Shark Tank™ visual fx product does not come in standard horizontal (normal wide-screen) viewing mode because you would need a 100"-120" TV to achieve a life-size image of the shark.


---
This purchase is for a "digital download" and you WILL NOT receive a physical product.
File download are in ".zip" format. You must be able to "un-zip" the downloaded files.
Once you have completed this purchase, you will receive the generated download link via email. Please make sure your email address is correct when making this purchase.
If you are planning to use this or any Hi-Rez Designs Visual FX product as part of a PRO / PAID HAUNTED ATTRACTION that charges admission, you must also purchase a COMMERCIAL USE LICENSE below.
Products listed as "SD" are the STANDARD DEFINITION digital video files and products listed with "HD" are the full HIGH DEFINITION digital video files versions.
There are ABSOLUTELY no refund or exchanges on digital download purchases.
No unauthorized duplication video product or any part of it. All commercial use or duplication of this copyrighted material without prior licensing is forbidden by Federal Law. Violators will be prosecuted.
- - - - - - -
All Hi-Rez Designs Visual FX DVD products are restricted to non-profit HOME HAUNT & PERSONAL USE ONLY, and are protected by all federal copyright laws.
If you wish to use this or any Hi-Rez Designs Visual FX DVD products as part of a PRO / PAID HAUNTED ATTRACTION that charges admission, you must also purchase a COMMERCIAL USE LICENSE.
If you have questions or would like to purchase a commercial license for using Hi-Rez Designs Visual FX DVDs as part of your paid admission or pro haunt, please email us at: info@hi-rezdesigns.com.
Federal Law provides civil and criminal penalties for the unauthorized reproduction, distribution, or exhibition of the copyrighted material of this product.
- - - - - - -
All video, audio, and imagery © Hi-Rez Designs. All Rights Reserved.