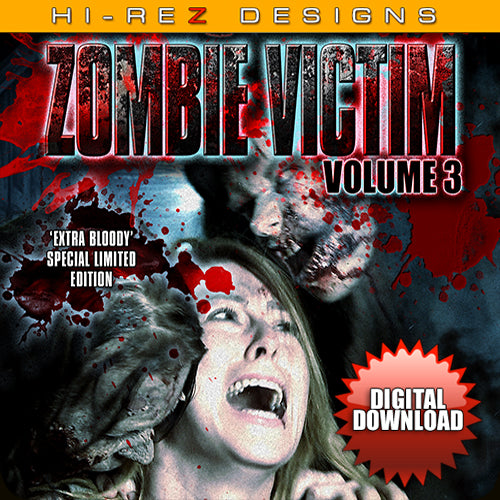 Hi-Rez Designs
Zombie Victim: Volume 3 - HD - DD
Sale price
$49.95 USD
Regular price
ZOMBIE VICTIM: VOLUME 3™ features the view through a barricaded door window with an abandoned / desolate hallway beyond with flickering lights and a sparking electric cable blocking any safe exit down the hallway ...

Suddenly a helpless young woman runs up to the door window begging for you (the viewer) to let her out. Without warning, 2 female "zombies" approach behind her, and the young woman goes into a full panic to avoid being torn apart by the oncoming zombies. The door shakes, and the barricading chain rattles as she struggles to get the door open to escape … but to no avail. When the zombies reach her, they bite into her flesh, splattering the glass with multiple blood squirts, and then dragging her to the ground to feast upon.

If you have a zombie themed haunt, this is definitely the product for you!

Filmed with real actors in 2K-HD (High-Definition) video, and using the best in Hollywood special makeup and visual effects, ZOMBIE VICTIM: VOLUME 3™ creates a realistic illusion and imagery your guests will never forget!

ZOMBIE VICTIM: VOLUME 3™ should be used with a 28" - 30" LCD monitor (mounted vertically) in your prop in order to get the proper realistic scale of the characters.

This product can be used with the all-new Hi-Rez Relay Decoder prop controller to achieve the full interactive experience this visual fx product and finished prop can deliver. This new state-of-the-art controller automatically detects an embedded signal to trigger separate lighting fx, smoke / fog machines. All with split-second precision timing with the video on the screen. The Hi-Rez Relay Decoder is the only "prop controller" certified to work with this product.

DOWNLOAD INCLUDES:

1080P (1920x1080) HIGH-DEFINITION VERSION
HOLLYWOOD-QUALITY SPECIAL VISUAL EFFECTS
USE WITH OR WITHOUT "HI-REZ RELAY DECODER" FOR PNEUMATICS / INTERACTIVE FX
USE WITH OR WITHOUT "HI-REZ WATER BLASTER CANNON"
CW OR CCW PORTRAIT MODE IMAGE ROTATION
TRIGGERED OR LOOPING PLAYBACK
PROGRESSIVE SCAN TECHNOLOGY PLAYBACK
OPTIMIZED FOR LCD / LED MONITORS
16x9 WIDESCREEN FORMAT
STEREO + HI-REZ RELAY DECODER VERSIONS
SHOT & MASTERED IN 2K-HD HIGH-DEFINITION
DOWNLOAD FILE SIZE: 2.08 GB
---
---
This purchase is for a "digital download" and you WILL NOT receive a physical product.
File download are in ".zip" format. You must be able to "un-zip" the downloaded files.
Once you have completed this purchase, you will receive the generated download link via email. Please make sure your email address is correct when making this purchase.
If you are planning to use this or any Hi-Rez Designs Visual FX product as part of a PRO / PAID HAUNTED ATTRACTION that charges admission, you must also purchase a COMMERCIAL USE LICENSE below.
Products listed as "SD" are the STANDARD DEFINITION digital video files and products listed with "HD" are the full HIGH DEFINITION digital video files versions.
There are ABSOLUTELY no refund or exchanges on digital download purchases.
No unauthorized duplication video product or any part of it. All commercial use or duplication of this copyrighted material without prior licensing is forbidden by Federal Law. Violators will be prosecuted.
- - - - - - -
All Hi-Rez Designs Visual FX DVD products are restricted to non-profit HOME HAUNT & PERSONAL USE ONLY, and are protected by all federal copyright laws.
If you wish to use this or any Hi-Rez Designs Visual FX DVD products as part of a PRO / PAID HAUNTED ATTRACTION that charges admission, you must also purchase a COMMERCIAL USE LICENSE.
If you have questions or would like to purchase a commercial license for using Hi-Rez Designs Visual FX DVDs as part of your paid admission or pro haunt, please email us at: info@hi-rezdesigns.com.
Federal Law provides civil and criminal penalties for the unauthorized reproduction, distribution, or exhibition of the copyrighted material of this product.
- - - - - - -
All video, audio, and imagery © Hi-Rez Designs. All Rights Reserved.