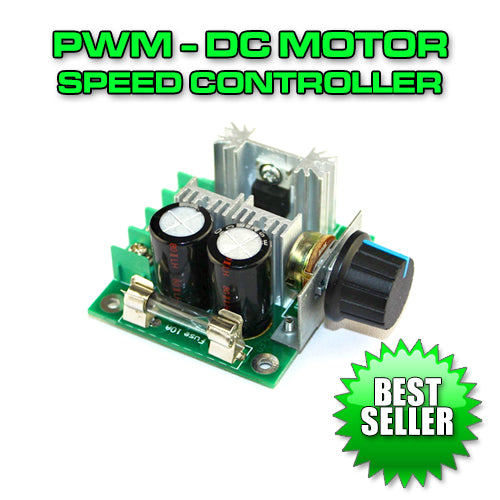 Monster Guts
PWM DC Motor Speed Controller
Sale price
$21.95 USD
Regular price
The PWM DC Motor Speed Controller is an inexpensive but highly effective solution to changing the speed of the
Monster Guts Premium 2-Speed Wiper Motor.
Using the on-board knob, you can adjust the speed of your wiper motor or linear actuator. You can also use this same controller to adjust the brightness of L.E.D.s.
TECHNICAL SPECIFICATIONS:
Rated for 12V-40V 10A usage
High speed PMW signal provides smooth, quiet operation at all speeds with no loss of torque
Easy to use connections and speed adjustment knob
On-board heat-sink to prevent fault / overheating
High Torque Speed Control
Low Heat Generating
Reverse Polarity Protection
High Current Protection
Size (L x W x H ): Approx. 2.8" x 2.3" x 1"
12V DC power supply and connection wires are NOT INCLUDED!
Please Note: We highly suggest using the Monster Guts 12v 5a Power Supply. Our power supplies are regulated, grounded, and guaranteed to work with our motors and controllers. Not all 12v power supplies work the same.*
DOCUMENTATION (IN PDF FORMAT):
PWM Speed Controller - Basic Wiring Instructions
Making outdoor props? Learn tips and tricks to protect your "guts" from the weather.