Which Motor Is Right For You?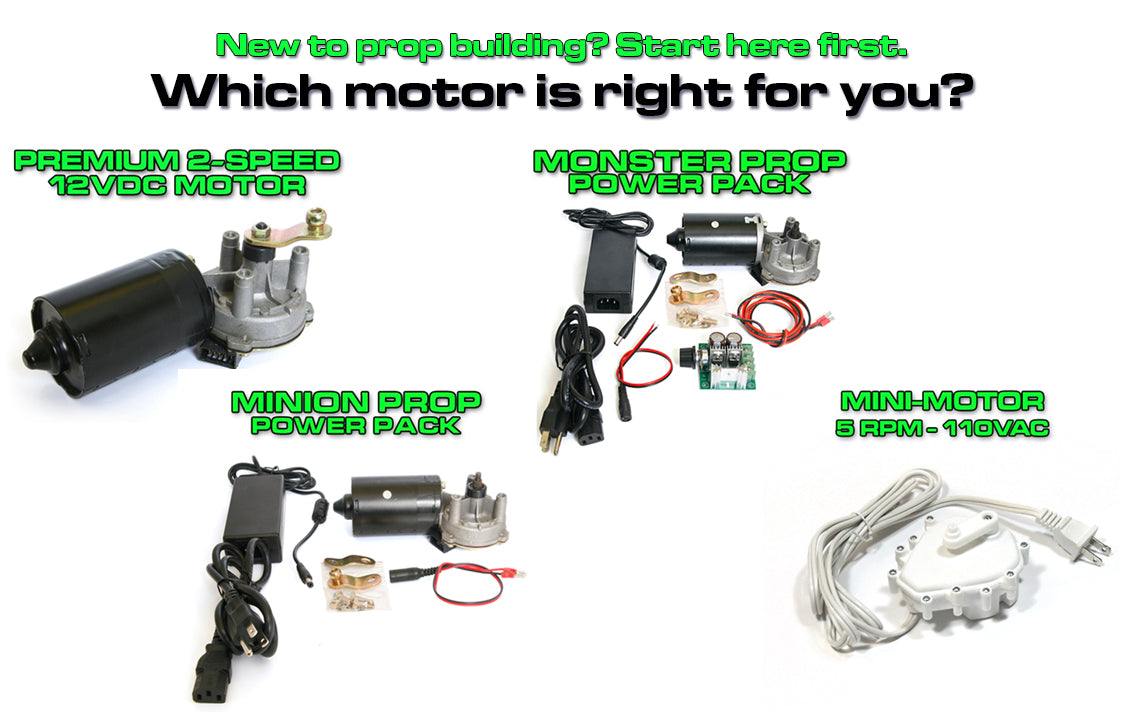 Are you new to prop building and not sure which motor is for you? Then here is a little guide to help you out.
Wiper motors are the standard for adding motion to your props. They are reliable and strong. We offer our wiper motor 3 ways.
First, is the wiper alone. It includes just the mounting bolts and standard wiper arm.
Second, is our Minion Power Prop Pack. This is the minimum you need to get your motor moving. It includes the motor, mounting bolts, standard wiper arm, alternate no-ball wiper arm, power quick connect and a 12v 5a power supply*. It takes less than a minute to get up and running. You will have to option to run it only at high or low speed.
Third is the Monster Prop Power Pack. This includes everything the Minion has plus a PWM Speed Controller. The Speed Controllers allows you to dial in the perfect speed with just a twist of a knob.
If you are working on a smaller and lighter project (generally under 2 lbs needing movement,) our Mini Motor might be the solution for you. These are sometimes referred to as deer motors. They are great for projects like tombstone poppers and Axeworthy ghost.
*Our 12v5a power supplies are regulated, grounded, and guaranteed to work with our motors and controllers. Not all 12v power supplies work the same or can handle a wiper motor's power draw.